Hot water where you need it
Install your EcoSmart Tankless Water Heater where hot water is needed. For example, under the sink in your kitchen or bathroom.
This application is primarily used for isolated hot water needs or for settings with multiple hot water sources.
Run a cold water line to the unit for a stand-alone hot water source directly at the point of use.
Use the unit to extend the hot water output of your tank and provide instant hot water.
Basic Configuration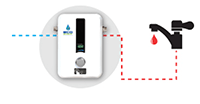 Products