– No standby heat loss. Heats water when you want it, instead of keeping water hot 24/7
– Saving energy reduces your carbon footprint.
– Most tanks have a warranty of 10-12 years.
– EcoSmart provides you with a limited lifetime warranty, ensuring that you will enjoy our product for the long haul.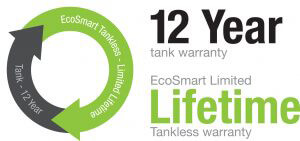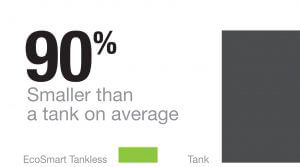 – EcoSmart electric tankless water heaters are 90% smaller than a tank type heater, allowing you to place them almost anywhere.
– Because they are so small, they can be installed at the point of use, so you don't have to waste water waiting for your water to heat up.
– Tankless water heaters can last over 20 years, much longer than any other water heater.
– Tanks only last 10-12 years.